Custom made stickers come in a variety of layouts, colors, materials and sizes. You can decide to incorporate just about any idea, concept or design you have in mind and work this out with the printing company of your choice. By choosing to have custom printed stickers, you are assured of its originality. Of course, this is something borne out of your own concepts and is based on what you really want. Thus, it reflects the soul and the very essence of which you represent --- your campaign, business or promotion. In this manner, your customized stickers actually standout and become distinctively different, hence it pushes what you want to sell or impart effectively.

With Stickers Exchange's custom printed stickers, you also have the control to choose the kind of materials you will need for your stickers to become something that will work to your advantage. The right type of material determines how durable your stickers will be. If this is a type of campaign or promotion where you would want to create an impact that is retained in your prospects' or clients' memories, it is best to go with a more resilient paper or material. This way, you are assured that what you want to promote can endure for several months (even years) and will have a lasting effect on your market.

In deciding how your printed stickers should appear, you have to think not just of the aesthetics but more importantly, its function. Printed stickers must be viewed as a tool for distributing your business or cause and making the public know of it. As such, it has to be something that people will not just easily discard once they see it, but rather, it must be something that they would be willing to flaunt or display themselves. If this is achieved, you won't have to worry about other forms of promotion since those who proudly associate themselves with you by putting your customized stickers where it is visible (like on car bumpers), have voluntarily become your marketing agents.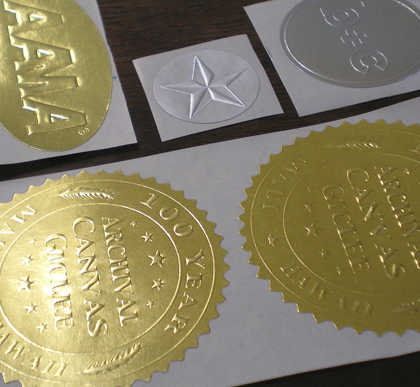 A good design, with the right use of colors and the right choice of materials, is very important and it has to be one that conveys the message strongly. And because a custom printed sticker gives you full control over the outcome, you can even choose to use the sticker's back side, to maximize its function.

One of the drawbacks of having custom stickers printed has to do with printing expenses. There are many factors involved in the process of customized stickers and printing them. Several machines may be utilized, depending on the design, size, color and shape, in order to achieve what you actually require. Additionally, you have to rely on professionals to do your printed stickers. As a result, this may shoot up cost and expenditures. Aside from these, designing your own stickers may take a longer time to finalize. Because careful planning and consideration is involved, you have to prepare this weeks in advance, ideally before you reach the day you give or distribute these printed stickers to your target market.

However, if you think of the long term effect, the expenses you may incur during procurement may well be worth it. Plus, there is another very useful option to go, in case you are pressed for time or you are forced to cut on budget --- in this day and age, anything is possible with the digital advantage. You can explore and make use of digital technology in creating whatever concept you have for your sticker designs. This in turn may help you cut cost and speed up your ideas for printing. Moreover, some printers have provide templates to make your decision making simpler. They will show you certain designs with the fitting color schemes and the kind of paper that go with it, and all you have to do is make some changes or alterations, one that best influences your taste and preference.

Truly, the options for customized stickers are unlimited and this may bring a lot more benefits than loss to your entity.